Home Page
---
Consulting
---
Training
---
Speaking
---
Articles
---
Industry Experience
---
Core Values
---
What Others Say
---
Contact Us
---
Links We Like
---
Anne's Blog

---
Credentials and Affiliations
Hull Strategies, LLC brings over 30 years of experience and practical education to the workplace. Anne Hull, President, holds a Masters of Education in Counseling from the University of Montevallo, and a B.F.A. from Southern Methodist University. Her certifications include
Organization Development - Georgetown University (post-graduate)
Performance Improvement Project Facilitation - Rummler-Brache
Managing Organizational Change - OD Resources Inc.
Re-engineering; The Leadership Perspective — Dr. Michael Hammer
Kirkpatrick Principal Evaluator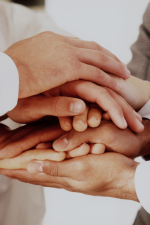 Ms. Hull holds memberships with:
American Society Training & Development
Career Directors International
Chesapeake Bay Organization Development Network
Maryland Career Development Association
World Future Society
and has served on the boards of:
Association of Career Professionals International
Board Member (2003-2007) and
Washington DC Chapter President (2005)
American Society Training & Development
Board of Directors, Birmingham, New Orleans Chapters
International Society for Performance Improvement
Board of Directors, Washington DC Chapter

Marymount University Business School Advisory Board.

We collaborate with:

MasteryWorks, Inc
Corporate University Enterprises, Inc.
Lee Hecht Harrison, LLC
Marshall Brown & Associates, Inc.
Sally Daniel Training Group, Inc.
Strategic Systems, LLC
and we welcome more partnerships.