Home Page
---
Consulting
---
Speaking
---
Articles
---
Affiliations
---
Industry Experience
---
Core Values
---
What Others Say
---
Contact Us
---
Links We Like
---
Anne's Blog

---
Training
Performance Improvement
Leadership Development
Fortune 500 - Non-Profit - Federal and Local Government
Hull Strategies can help people develop the skills they need to fulfill your organization's talent needs. Whether for faster on-boarding or succession planning, we can develop learning options based on the competencies you need. You can attract and retain key talent by providing opportunities for people to learn and take control of their careers. We can help you develop the competencies and skill sets needed for your organization to stay competitive.
Program Evaluation
Certified Kirkpatrick Principal Evaluator
Tired of spending money on training programs that don't seem to make a difference? Hull Strategies can evaluate your programs to determine how to make it more effective. We will work with your training professionals and front line leaders to develop the most effective training and learning environment.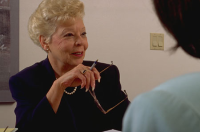 All courses are customized and developed for your unique needs.
---
Design and Delivery
Programs are developed for your specific requirements. To maximize group time we conduct a pre-event analysis and prepare participants to use the workshop time effectively. Participants won't be wasting time at the workshop; we facilitate discussions based on pre-program interviews and activities to meet your objectives. Your event is organized and structured to maximize the learning in the time available
The impact of your investment continues when people return to the workplace. We will help you develop in-house follow-up options and provide appropriate resources for your success.
Sample Courses
Choose a title below for more information about the course.
Sample Programs that address the Employee Life-Cycle (.pdf)
Change Management
Leveraging Resistance - Leading Change
Career Management
On Boarding – Learning the Ropes of the New Role
Individual Development Planning (IDPs)
Preparing for an Internal Job Transition
Managing Your Career at (organization name) (coming soon)
Interviewing Skills from Both Sides of the Desk
Leadership
Customer Service (Public Sector and Internal Colleagues)
Leading Meetings - Large and Small Group Management
Management from Afar - Challenges of a Dispersed Work Group